Search in the Lineups (Capacitor)
Ni Plating + Pd Plating termination Conductive Glue Mounting Chip Multilayer Ceramic Capacitors for Automotive
GCB Series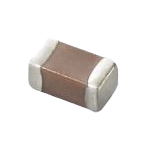 Monolithic ceramic capacitor limited to conductive glue mounting and that can be used even in high-temperature environments at 200℃

Limited to Conductive Glue Mounting

These monolithic ceramic capacitors support the electrically conductive adhesives*, now being used in the powertrains and safety devices of automobiles, complying with the AEC-Q200 stress test qualification for passive components.

Palladium plating used for external electrodes

Palladium (Pd) is employed for the plating surfaces of the external electrodes of these capacitors, and a high bonding reliability with electrically conductive adhesives is achieved as a result even during use in high-temperature environments. Furthermore, the terminal electrodes of the capacitors have a superior corrosion resistance compared with our previously available product, the GCG series.

Ability to function at temperatures up to 200℃

Products that can be used at temperatures up to 200℃ have now been made available, and they are ideally suited to the products and devices that are installed in automobiles and work in high-temperature conditions.
* This product is for use exclusively with conductive glue mounting. It cannot be used with any mounting methods other than conductive glue mounting.
Using solder to mount the product can result in insufficient wetting, insufficient bonding strength, and/or leaching of the Ag/Pd External Electrodes (terminations), which can cause quality problems such as the chip coming loose.